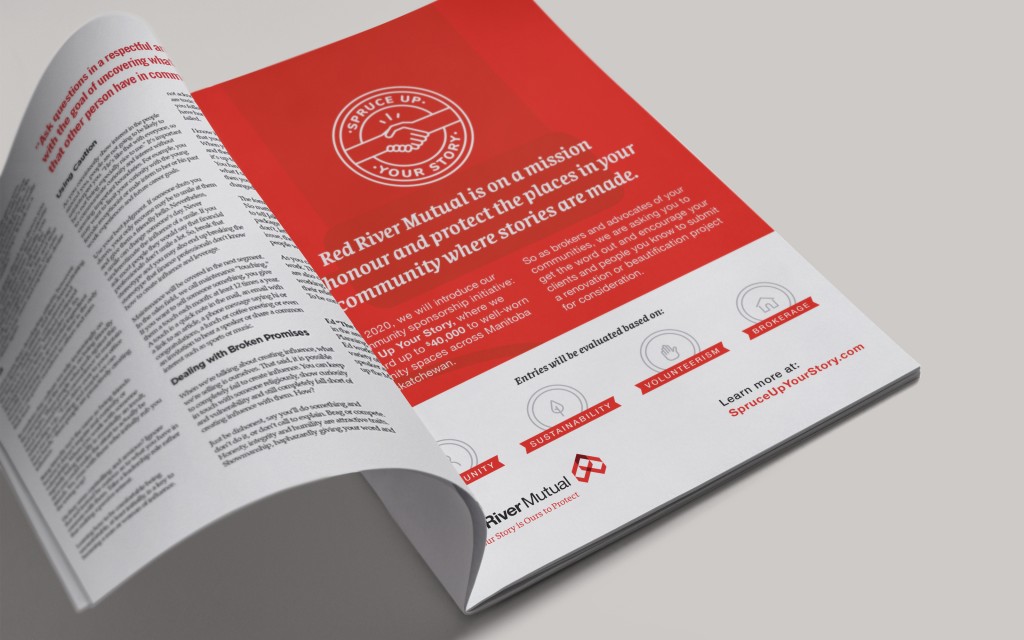 We love all of our clients—there are so many fun personalities we get to connect with, and so much creative diversity in our network. But every so often, you'll start to work with a new client and things just click. There's nothing better than that sweet, sweet synergy that allows you to explore new ideas, ask big questions, and make some marketing magic happen. 
Lainie Goldstine—Marketing Manager of Red River Mutual—definitely qualifies as an absolute Dream Client. We've been working with her marketing team for a few years now, helping to shape the Red River Mutual brand and launch innovative campaigns. The sense of trust we've established has helped us develop some powerful work that really resonates, with greater confidence to take risks and think outside the box. After all, trust is the foundation of any good relationship—even professional ones! 
Spruced Up Marketing
Red River Mutual is a property and casualty insurance company that serves commercial businesses, residential properties and farms, with a special interest in loss prevention, offering tips and best practices to avoid having to make a claim. The nature of the insurance business is an interesting challenge from a marketing perspective—they don't offer tangible products or services, and there are some negative connotations with the industry as a whole. 
We worked with Lainie to develop campaigns that showcase who Red River Mutual truly is at their core, positioning them in a positive way so they're better able to engage with the public. Spruce Up Your Story was a community initiative program that enabled the Red River Mutual team to give back to the communities they serve by providing enhancements for well-loved, well-worn community spaces like parks, baseball diamonds, and public gardens. Lainie says it's been her most favourite project to date!
"This campaign launched just prior to the start of the coronavirus pandemic and through the never-ending support of their dedicated team members we were able to pivot, adjust, refocus and evolve the program (throughout its inaugural year) to great success! We will soon be initiating our third year of the program and it has exceeded our wildest expectations and is something we as an organization are very proud of and helps differentiate our company amongst our peers." – Lainie Goldstine
Throughout all that pivoting and refocusing, the great relationship and trust we built with Lainie really made the process smoother. When challenges arose, we were able to discuss them with transparency and create a solid game plan to move forward. 
Building Relationships with Marketing Teams
At UpHouse, our goal isn't to replace an organization's marketing team—we're there to provide guidance and support to help optimize the success of their existing team, setting them on the right path to success. With Red River Mutual, we've had a fantastic experience working alongside them to help shape their brand, identify their goals, and aim high. 
"UpHouse has helped our team feel empowered and included in the creative projects and decisions as opposed to simply taking the lead. Their team strives to continually educate our team members and promote a holistic approach to all projects and campaigns." – Lainie Goldstine
Understanding an organization's goals and core values is crucial for crafting a successful marketing campaign, but when those core values are shared by your own team, it strengthens that foundation of trust. We've always been big on philanthropy and giving back to the community, so when you join forces with a team that's on the same page—like with Red River Mutual—the work is easier and more fun! 
Since partnering with Lainie, every year we facilitate a brainstorming session to help define and build our key promotional plans for nonprofit organizations. Those brainstorm sessions have really helped put our shared goals into perspective, inspiring us to keep working toward brighter futures for our community. 
It's been a rewarding experience as our team, Lainie's team, and the relationship we've built has grown and evolved with each new project. Open communication and mutual respect have made it so much easier to continually improve and enhance the work we do, and we're really looking forward to all the new opportunities heading our way in 2022!