In marketing, the most effective way to create distance from your competition is to set your sights on a "competitor" in a completely different industry. The goal here is to find a new source of inspiration and a new standard of innovation to which you can aspire, rather than slipping into a me-too mindset by focusing too heavily on your business's direct competitors.
In a previous blog post, we explored the idea of competing with those you admire and provided you with three tips on how to bring an outsider's perspective to your industry—host a cross-industry brainstorm, read another industry's trade publication, and interview a marketer in a different industry. Since all across Canada many of us have a little more time on our hands these days, Kiirsten decided to practice her own advice this month.
She started by reading Dwell magazine, a design and technology trade publication. Then she reached out to marketer Harriet Tzou, whose firm was featured in one of the articles, for a friendly chat.
Harriet is the Marketing and Communications Manager at California-based fuseproject, an industrial design and branding firm that brings together strategy, brand design, product design, visual design, experience design, environmental and retail design to deliver on all dimensions of an experience in an integrated way.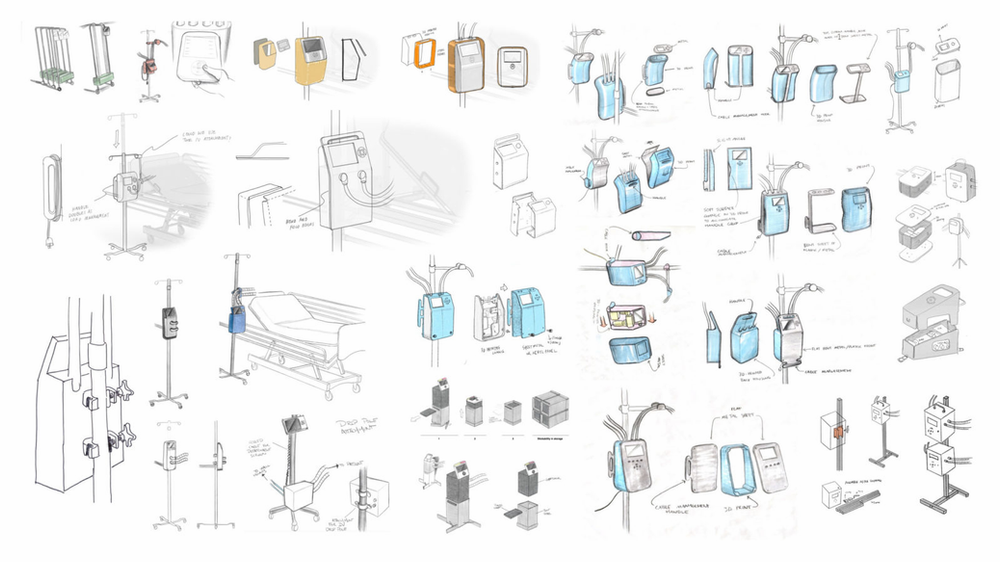 fuseproject's InVent ventilator leverages the ubiquitous IV pole to enable speedy manufacturability, adjustable placement in use, easy transport, and simple storage.
As a marketer, Harriet spoke about the value of "looking at a product or project and interpreting it through the lens of human experience." Unlike what we typically do at UpHouse—work with companies that sell an already well-known product or service and help them augment both their brand and their products—Harriet likes to begin the storytelling process as early as the conceptual design phase where she starts to consider the contextual landscape of how a product can resonate with people.
It will always be critical to connect a project's story to its end user by taking a bird's eye view approach to communications and marketing.
Or, to be more specific, she looks at what is happening economically, socially, culturally—and at times—politically to determine how to best position a product or project for its target audience.
Here are three insight we learned from Harriet simply by calling her up and having a conversation about the work she does within her industry. Each has given us food for thought for the next project we tackle.
1) Consider all of the different drivers in order to develop a strategy that is informed, purposeful and compelling.
While understanding your target audiences is key with any product or brand, it's important to also have a complete understanding of the bigger picture. This means knowing what's currently happening in the social, cultural and economic landscapes and then determining how best to fit a product or brand within those landscapes. These learnings become yet another pillar in an overarching marketing strategy and gives the product a greater appeal because it puts it in tune with the rest of the world.
2) Recognize the value of the design story vs. the consumer story.
A designer's experience may not reflect what a consumer or user will get out of the final product. For example, an architect may feel that the most important part of a new project is that they found a way to collaborate with the engineers to resolve a major structural challenge, but why does that matter to the person experiencing the building? It's important for professional services brands to always keep the end user in mind through the marketing process.
However, there's one thing to remember: it's important to present your ideas of how to position the product without shutting down someone else's passion.
Instead, show how your idea makes their achievement relevant to a wider audience. Doing so will help you earn the trust of your firm's design or engineering team.
3) Evolve the legacy.
A clear, purposeful and intentional expression of brand identity can be a powerful tool in attracting new talent, bringing in new clients and solidifying a company's status as a long-term, trusted partner in delivering innovation. If you work at a studio, agency or firm, your existing body of work captures your legacy and presence as a distinctive brand. How you move your organization forward represents an ability to navigate new ground, leverage cutting edge technology and bring an entrepreneurial mindset to your work. Communication strategies—both short term and longterm— play a significant role in showcasing and expressing the creative talent you can continue to assert through unchartered territories.
The Proximity Paradox: How To Create Distance from Business as Usual and Do Something Truly Innovative is available now.
#TheProximityParadox #creativity #innovation #admiration #inspiration #marketingtips #UpHouse #competition #crossindustry #tradepublications