Established in 1901, Winnipeg's
Balmoral Hall School
(BH) has been inspiring girls' imagination and courage to excel, to reach, to learn and to care. When it opened almost 120 years ago, it was one of the few options for a girl's education and quickly became the most prestigious school west of Toronto. Since then it has been an unapologetically bold institution of doers and dreamers. It has never been a finishing school for girls or a career training institute—it has always been a prominent school that gives young women the skills to navigate any path down which life leads.
Understanding the Challenge
The challenge around redeveloping BH's brand was that we needed to truly understand who they were and the hurdles they've faced in the past and will face in the future. The school wanted to put a stake in the ground to showcase what made them different from other education institutions. Their goal was to show the world how they are pushing forward as one of the most progressive schools in the country.
Finding the Concept
It soon became clear that in order to push toward the future, we needed to fully embrace a bold path that both honoured the school's past while breaking free of old-fashioned expectations and assumptions. We had to re-position their visual identity and in doing so, we needed to update their school crest.
Changing an institution's crest can be a nerve-wracking job; that item, more than anything else, is steeped in history and tradition. Every single element within it holds meaning.
We examined each element to decide which ones needed to remain and which ones could be modified, updated or removed so that the school could break-free of old perceptions. The biggest decision was whether to keep the letters 'BH' at the centre of the crest. After much consultation with stakeholders, it was agreed that it could be removed. Throughout the entire process, we were considerate of the feelings and emotions around the existing crest as we strived to preserve its legacy while also creating a design that honoured the school's vision for its future.
What Happened Next?
The result is a new representation of BH's old crest. It doesn't negate the original, but rather, it is a modern interpretation that reflects its mission of self-improvement and self-worth.
Our team embraced bold in this challenge just like the school embraces bold with its girls.
Balmoral Hall teaches its girls to be ready to hold jobs that haven't yet been invented; it teaches its girls to be resilient, to not fear failure and to truly push themselves into learning what they're capable of. It wants girls to see themselves as they've never seen themselves before. And it wants to make sure that every BH girl graduates with purpose. The fresh, bold take on the school's crest reflects all that and has given Balmoral Hall School a symbol to embrace and to stand behind.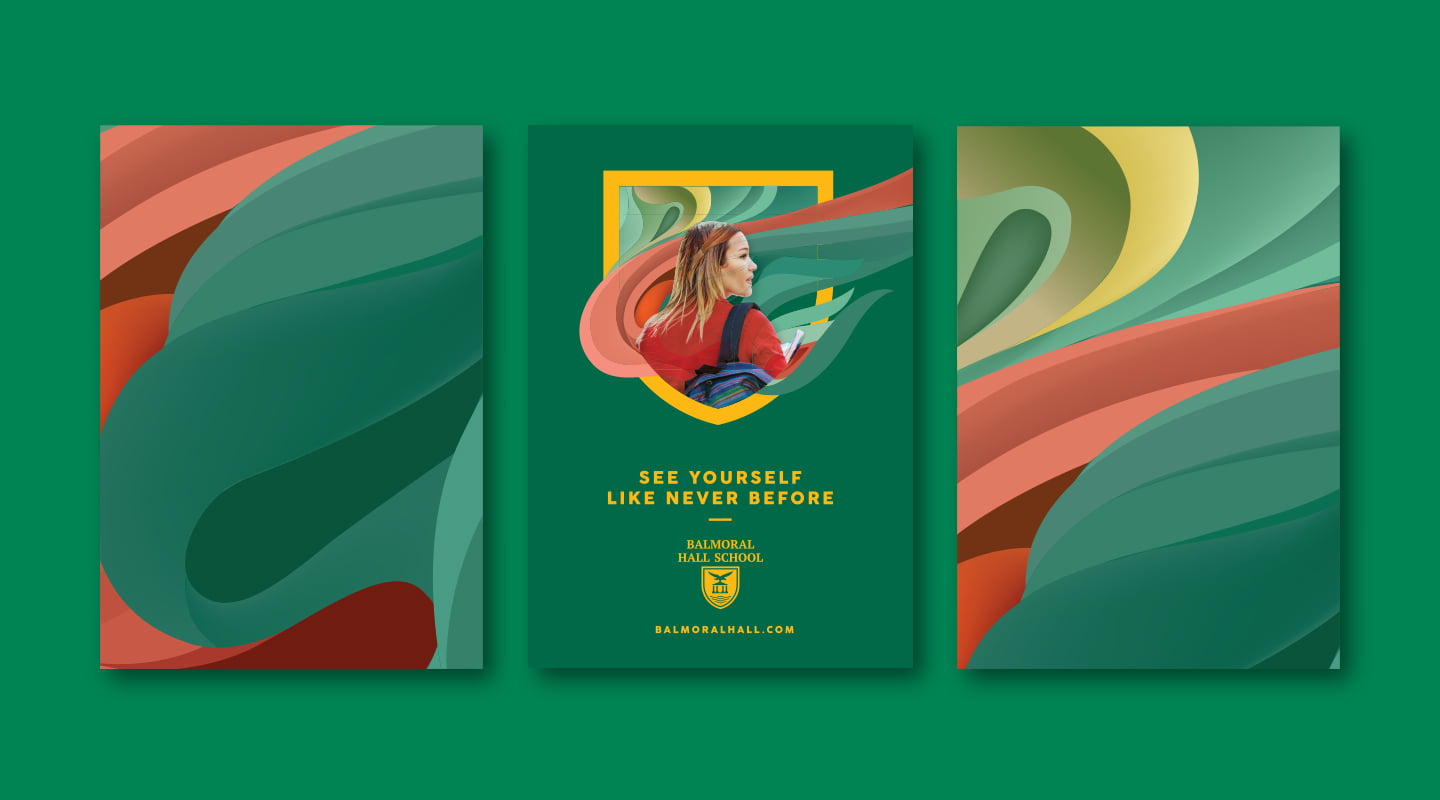 Marketing Tips for In-House and Agency Teams
How can you respect a legacy while revitalizing a brand?
Be unapologetically bold.

Recognize when you need to put a stake in the ground, trust your convictions and go for it. A brand needs to be bold to show people how it is different; don't apologize for being different.

Break from convention.

In this case, we were more apprehensive about changing the crest than the client was. Don't make assumptions as to what a client is willing to try. Great brand work is about being courageous and confident.

Let history guide you.

Dig into any archival resources the client has on hand. A

book documenting the school's history

revealed the significance of the eagle (seeking higher things), the river (accepting the fast of flow life) and the pillars (desire for knowledge). These values are still alive in the school today, so we knew that no matter how much the trappings of the logo changed, these symbols would ground BH's identity.
Our Cannes Lions Wrap Up: 2022's Winners

Presented annually since 1954, the Cannes Lions are an international creative awards show that focuses on the best in the advertising and communication industry. Luckily, Winnipeggers get to see the world's most entertaining, inspirational, and humorous commercials on the big [...]

Advice We Wish We Had: International Women's Day

Getting started in a business that's known for being a "boy's club" can be hard, so in honour of International Women's Day, the ladies of UpHouse were asked to provide the kind of advice they wished they'd gotten when they [...]

Our Doors Are Open—Especially to an Office Administrator

A Little Bit About Us We're looking for talented collaborators to join our team. If you or someone you know would be a fit for our team, we want know! UpHouse is a marketing and PR agency that elevates [...]