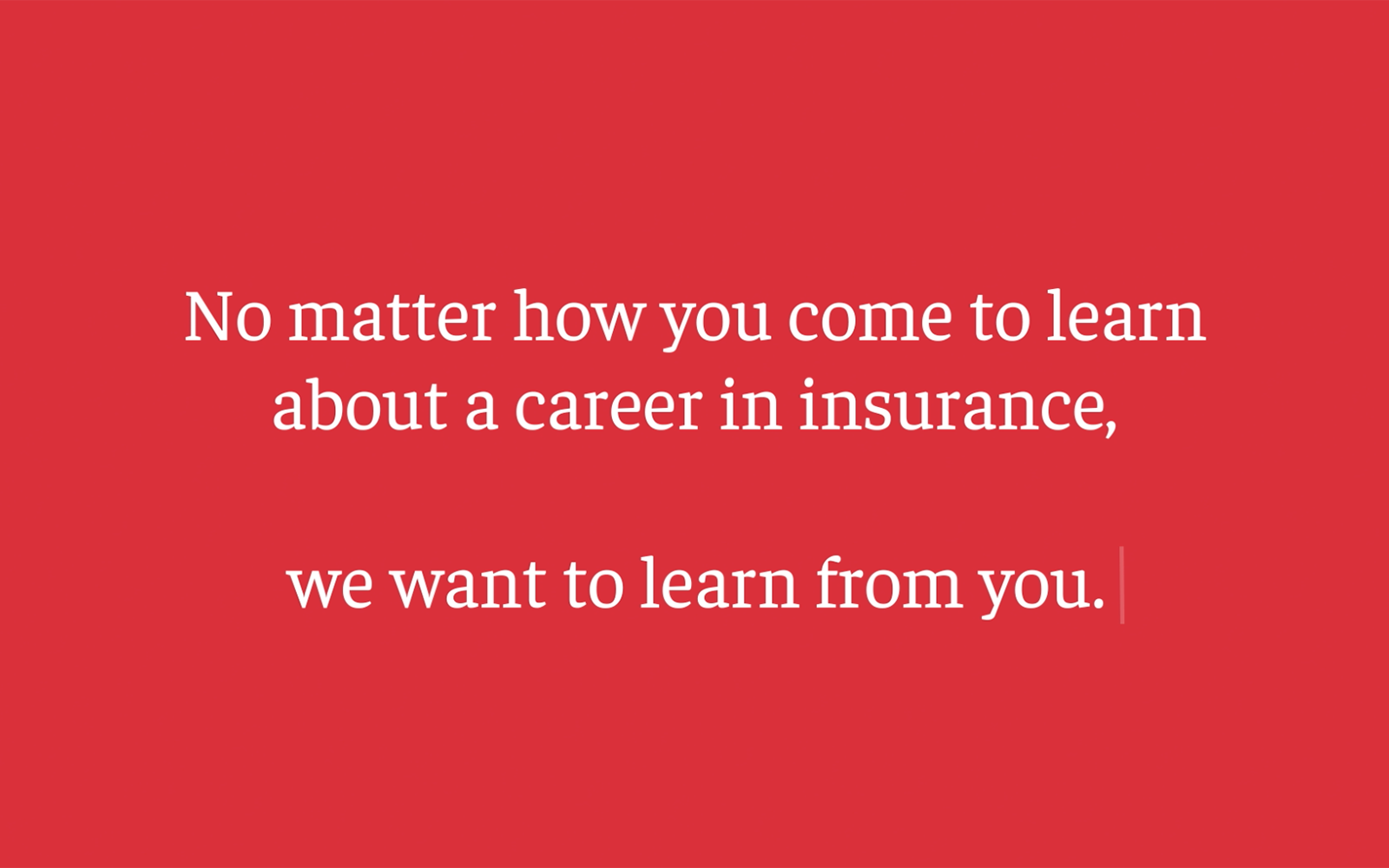 For over 140 years, Red River Mutual (RRM) has been protecting stories – and the special places they're made – in the communities they serve. Their insurance products cover homes, businesses and farms across Manitoba. We previously worked with them to strengthen and reinvigorate their brand, focusing on redefining the company's values and brand promise, "Your Story is Ours to Protect", to reflect their desire to care for customers like family.
Understanding the Challenge
RRM's HR team has built a strong recruitment strategy for their offices in Altona and Winnipeg, MB, but as the company expands into new areas and the business expects to double its workforce in the next 5 years, they felt it was time to align that recruitment strategy with their marketing efforts. The RRM HR and marketing teams approached us for help developing a campaign that tells the authentic story of what it's like to work at the company and the opportunities it presents – in and industry and in occupations that are often not well-known to many. By interviewing and consulting with RRM staff, we learned their employees come from a variety of industries and areas of study. For example, there are English majors, former teachers and customer service pros among their staff – so the campaign needed to grab the attention of a diverse group of professionals.
Finding the Concept
We sat down with the RRM HR and marketing teams in late 2019 to talk through what they were looking for, ideas they had, what it's really like to work at RRM, and what the HR department had been working on. We also set up focus groups with employees to learn more about how they came to work in insurance and what they liked about working at RRM.
With that info, we put together a strategy focusing heavily on video execution, with the campaign concept: "What's Next in Your Story" – a play on the "your story" messaging that runs throughout RRM's branding, and an ode to the fact that some people don't necessarily set out for careers in insurance, but once they get to RRM, they have the potential to grow (and never stop growing) their stories.
We proposed three employee profile videos highlighting a residential underwriter, farm underwriter, and loss prevention specialist's stories – the jobs with the highest hiring needs at RRM – as well as a more general campaign video that wove these stories together and showed a broader picture of what it's like to work at RRM.
What Happened Next
We were set to film in March 2020 – but the emergence of COVID-19 in Manitoba changed circumstances immediately. Both the RRM team and the UpHouse team agreed that we couldn't safely film their employees when we were so uncertain about the severity of the virus. So, we reimagined the campaign execution, while seeking to maintain the heart of the story we had created. How could we feature real employees' stories without filming anyone?
Sticking with the original concept, we instead used slow-motion stock video coupled with a voiceover and animated text overlays to capture the idea of people writing the next chapter in their stories at Red River Mutual. The scripts were still rooted in real employee experiences from our focus groups – so we didn't lose the thread of authenticity we were chasing from the beginning.
Tips for Pivoting your Video Execution (While Saving the Original Concept)
See constraints as an opportunity. When a planned live-action video shoot is suddenly off the table, see it as an opportunity to get creative with the execution. Rather than rethinking the whole concept, find new ways to tell the same story you and the team initially fell in love with.
Lean into animation and stock video. Stock video doesn't have to feel generic. We were looking for realness and a sense of personality, and one of the sites where we found that was Dissolve.com. Adding animated text over the video helped transform it from basic or ordinary stock footage into having the element of interest we were going for.
Bring the designer in early. No matter what kind of video you're producing (live action, animated, stock, etc.), it's extremely helpful to collaborate with a designer from the beginning of your project. They'll help you explore options, develop a visual concept and figure out how to execute a video in an engaging visual way, even when there are unexpected constraints.