The general public often has pre-conceived notions about insurance companies. That view is one that is highly corporate and inflexible. Ask the average person their thoughts on the insurance industry in general and the answer is frequently a recount of a frustrating previous experience. 
Johnston Group
, however, is a different kind of insurance company. Yet, their branding reflected the industry in general rather than what makes them different, which is that they are a very human and very down-to-earth company. Johnston Group promises to treat the people they insure the same way they would treat a friend or family member.
In other words, Johnston Group was a brand with a great story that wasn't being shared with the world.
Understanding the Challenge
Johnston Group is a third-party insurance administrator and a company that specializes in group benefit programs. For over 35 years, thousands of Canadian firms have turned to their
Chambers Plan
, making it the largest association plan in Canada. Currently, some 30,000 Canadian businesses trust Johnston Group's Chambers Plan with their employee benefit needs. 
Their
Maximum Benefit
plan is a one-stop shop for mid- to large-sized businesses to customize their benefits and pick their insurer. And, their
CINUP
plan brings Indigenous communities together as one collective force to achieve marketplace power, enhancing employee benefits, services and stability.
Three plans, three audiences. But one company that needed to tell one story to tie it all together. 
Finding the Concept
Part of our job was to truly understand the three different plans and the three different audiences. To do so, we sat down with folks from each audience and looked for the shared themes. From there, we looked at how Johnston Group's personality lived in each plan and each interaction and how the company came to life for each person.
A common thread emerged. Every business that worked with Johnston Group did so because they wanted to make their employees' whole life better. Each one believed that when a person is taken care of at work, their entire life improves. Johnston Group's goal is to give these companies everything they need to take care of their employees in the best way possible – and Johnston Group models this with its own quirky office culture and wellness activities (think: besting the Guinness World Record for most high-fives in relay in 3 minutes).

What Happened Next?
From there Johnston Group's brand story emerged — a story that had always been there but had been hiding behind its insurance industry persona. We had listened long enough that when it came time to develop the brand, the direction was obvious. The visual identity reflected their brand personality, one of warm, almost well-worn colours that inspire feelings of being well-loved. And a tagline that wrapped up exactly who they are: Work life wonderful.
Johnston Group is now rolling out its brand strategy, with new signage to reflect their core values and new marketing material to reflect their story.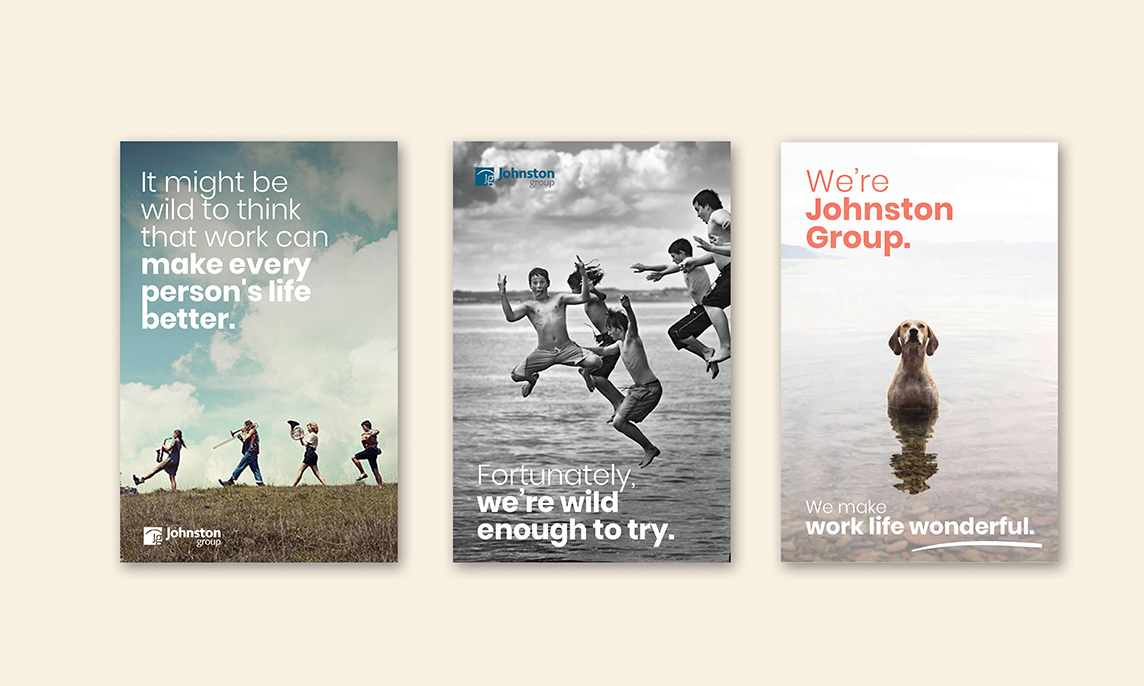 Marketing Tips for In-House and Agency Teams
Looking to bring your company's brand story to the world?
It's okay to let your human side show.

 Many industries are under heavy scrutiny but that doesn't mean individual companies in that industry have to disguise their true identity. If a company culture is quirky, be quirky. If a company culture is warm and friendly, be warm and friendly. Having a human brand doesn't mean a company isn't professional or credible, instead, it accurately portrays the spirit of the company. 

Tell a story.

 Every company has a story and you shouldn't be afraid to tell it. And like every good story, it showcases the challenges that must be overcome in order to reach the end goal. Because it's through challenge that customers are able to understand what a company is willing to overcome in order to achieve that goal. It's what brings people together — shared values and a shared vision. 

Taglines.

Taglines should be a clear descriptor of a business (but make you want to lean in and learn more). Too often businesses struggle with creating a tagline — should it be descriptive or catchy? — and then they don't use the one they've created because they don't love it. A tagline should say what you do so that your audience gets it and it should have a good story behind it. Together, they create an a-ha moment for the audience.