We're the lucky ones in the marketing industry.
We get to meet with a diverse roster of clients and leave brainstorming sessions feeling invigorated, filled with ideas for the client's business and tons of inspiration for our own. Just getting to shift our focus to a different industry can help trigger ideas that would otherwise never present themselves.
But for many organizations, brainstorms can be expensive and out of reach. We wanted to extend the opportunity to develop ideas to other marketers who'd like to get creative and do some good, while taking a break from their daily routines.
While it's not always celebrated this way – we know the value of a good idea, and who could benefit more from a wealth of ideas than non-profits trying to make big change in the world with small budgets?
This was the rationale behind the first instalment of Brainstorm of Good, a two-hour brainstorming session facilitated by UpHouse where groups of marketers across all industries conceptualized marketing ideas for
Main Street Project
's capital campaign, "
It's Time.
"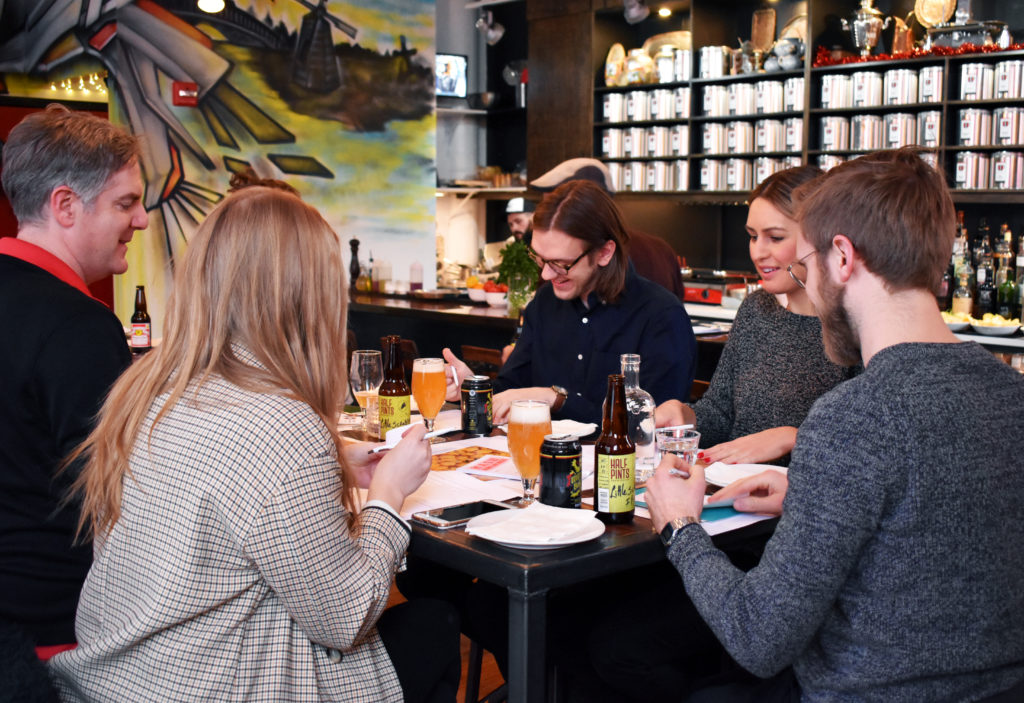 About Main Street Project
Main Street Project
 (MSP) has been serving the needs of Winnipeg's most vulnerable residents since 1972. Their downtown Winnipeg facility is the only low-barrier shelter in the city. Simply put, this means they don't turn away anyone, no matter their state or level of intoxication (from alcohol or drugs). As long as they are not a physical threat, anyone is welcome.
Main Street Project programs vary from providing basic food and shelter to crisis support and transitional housing. They work with a housing-first philosophy — people are able to move forward and make positive life choices if they are first housed.
Every night, an average of 85 people are given accommodation at Main Street Project's emergency shelter, a 2,100 square foot space located in downtown Winnipeg. Those individuals spend the night on floor mattresses. They have access to just one shower, two wash sinks, and three toilets. Though Main Street doesn't turn anyone away due to intoxication, they have to turn people away due to capacity.
While all three levels of government have been engaged, Main Street Project can't wait to secure funds and has already purchased a 36,000 square foot building to grow into. To fill this with 150 beds, a 24-hour cafeteria, counselling and other essential services, the organization has recently launched its new capital campaign, "
It's Time
," with a fundraising goal of $2.5 million. (Since our brainstorm was held, Main Street has already
opened a 24-hour warming centre
in the building they will be renovating due to the extreme weather and needs in the community.)
The campaign tagline and hashtag were set (It's Time and
#itstimewpg
), but the creative direction and promotional tactics were open season. This gave our guests the opportunity to contribute to the shaping of the It's Time campaign while still in its infancy.
The Process
We sent out a creative brief outlining the marketing challenge to a group of marketers and creatives from different industries who RSVPed.
Then, we gathered for afternoon drinks at one of our favourite neighbourhood spots, letting the tables establish small workgroups. As every good brainstorming session should, Brainstorm for Good also started with an ice breaker. After everyone settled in and familiarized themselves, we let Main Street Project introduce the challenge and any parameters. Everyone had an hour to brainstorm concepts, campaign ideas, and any marketing tactics that might address the need.
When the 60 minutes were up, we gave each team 5 minutes to present their ideas to the rest of the group. At the end of each pitch, there was an opportunity for questions and suggestions. During this time, we encouraged guests to take notes on any takeaways they could apply to their own organizations.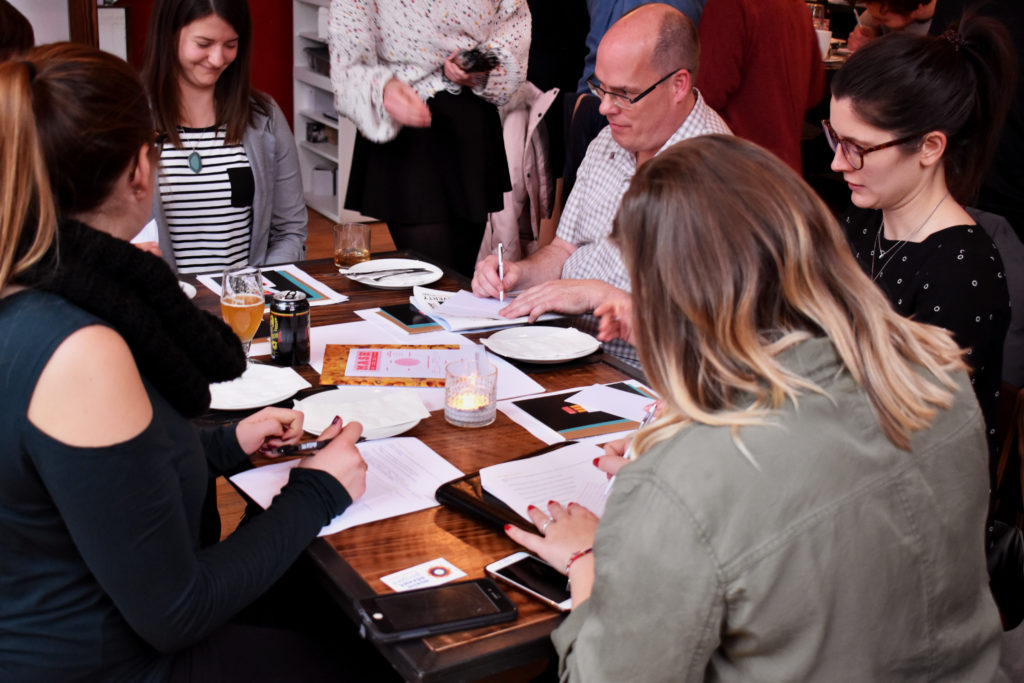 What Was in for Everyone?
By having a bunch of new brains working on their marketing challenge, the Main Street Project rep admitted to leaving the room with a list of marketing ideas the organization can implement right away. The brainstorming session also granted them exposure to a room full of good people.
"I look at the list you've given me and it's literally taped to my desk here – I have them right in front of me," says Al Foster, our liaison at Main Street Project. "There are some really great ideas. Just the provocative nature of what you guys put forward sort of reaffirmed what we were thinking."
Since the session, Main Street Project has chosen to market and run their scheduled gala a little differently – titled "
Bringing it in from the streets
," the "anti-gala" involves breakdancing, graffiti, and skateboarding demos to stand out among the champagne-riddled affairs it's competing against.
For the marketers, our guests got the opportunity to meet and network with other creatives, while collaborating to come up with great marketing initiatives for a charitable organization. As an added bonus, they gained a diversity of thought and inspiration to bring back to their own organizations.
Key Takeaways
To no one's surprise, a list of promising ideas emerged in the short span of a couple hours with a stacked room of marketers. While some of the ideas were blue-sky and would need plenty of legwork to implement, others gained MSP's immediate approval based on their practicality.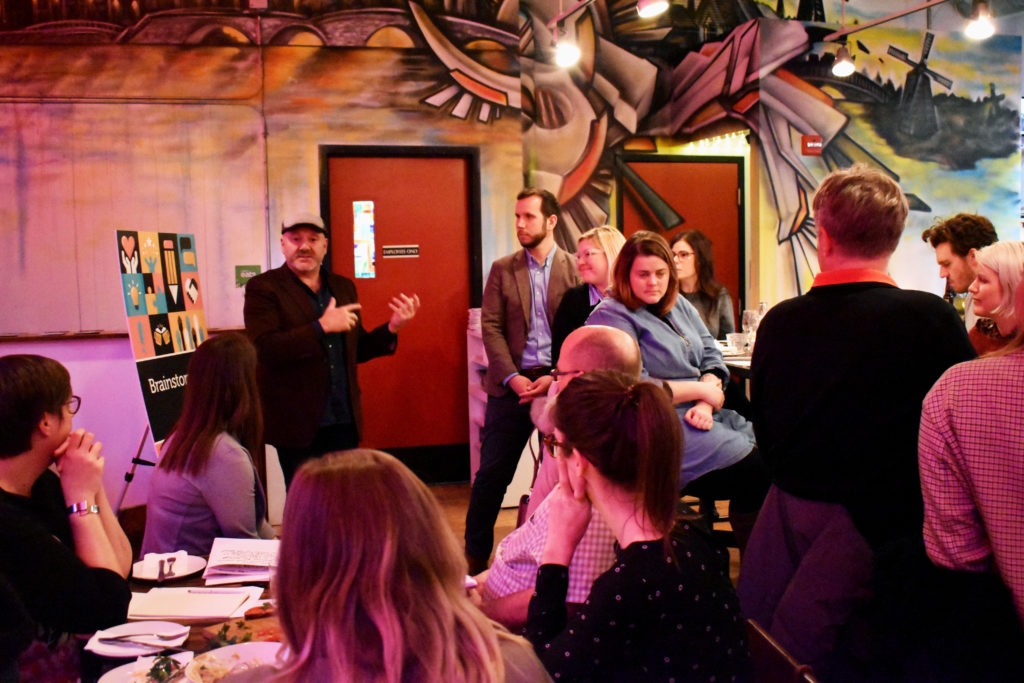 Here are a selection of our favourites:
Similar to

#bellletstalk

, encourage people to post an "It's Time" message about a time when they felt helpless witnessing someone struggling in the streets of their city. Find a sponsor to kick back around $1 each time someone posts a message. Alternatively, you could use a rotating group of sponsors so the contribution for each individual business is more modest.

Ask downtown restaurants to put a decal on their street-facing windows. Decals will be visible to diners and will say, "If this makes you uncomfortable, here is how you can help: [URL to donate $5/mo.]" Idea is that we all see people walking by who are obviously struggling, and if MSP makes it easy, anyone can get involved in enacting positive change.

Get volunteers to ask for money on Main Street like panhandlers, helping to nix this pandemic for good. (Outfit them with vests/official It's Time gear)

Forge a partnership with one of the artists or with the Manitoba Association of Architects to create an installation in one of The Forks' warming huts. Include a sign with messaging like "Doesn't it feel good to warm up for a minute?" or "The winter feels worse when there's nowhere warm to go," for example, and some notes on the new MSP building/goals, and how to get involved. (Bonus: add a hashtag with someone throwing in $1 per share.)

Get partner businesses to put people up for the night, knowing MSP has to turn people away each night. Media coverage would benefit MSP's cause and reflect positively on these partner businesses.

Cover the current building in a mural through a partnership with Synonym Art Consultation/Graffiti Arts Programming. Include an "It's Time" message or make sure it gets media attention so it raises awareness about the need for a new space.

Encourage local entrepreneurs to be "It's Time"-affiliated businesses. Maybe they offer $1 from the sale of a certain drink to the cause, cover charges, or encourage patrons to round up and donate the change.

Ask partner businesses to shut down to one stall for bathroom breaks as a way to gain empathy for the cause. Possibly charge for use of the additional stall, with funds going to Main Street Project.

Send invites to purchase tickets to a fake gala. The idea is that people don't want to go to galas, but they need to spend their charitable giving dollars. People can support MSP and get a tax receipt without having to give up their evening for a gala. (Maybe select funds can go into hosting a "gala-like" special dinner for MSP folks (and film the results)).

Downtown freezer: Challenge the community/corporate groups to strip down to minimal clothing and stay in a pop-up freezer as long as possible (fundraising opportunity here as well) – or a "polar dip" fundraising event (similar to the CEO Sleepout).