The world has changed dramatically over the past year, and the pandemic has forced us to reevaluate our lifestyles and routines. As marketers, we've taken note of these changes and adapted our strategies accordingly. Whether communicating with new audiences or pitching directly to clients, our shared experiences with the

pandemic are now reflected in the content we create.
This is especially true for a recent project:
Vue Taché Condominiums
, a new seven-storey, luxury concrete building from StreetSide Developments. Arguably, there's nowhere in our lives that changed more during the pandemic than our homes and how we depend on them – and our client was consciously revisiting the amenities and features of the new building to "futureproof" it. Without mentioning the pandemic, we used the new roles we expect our homes to play to help tighten the building's offering and better connect with potential buyers.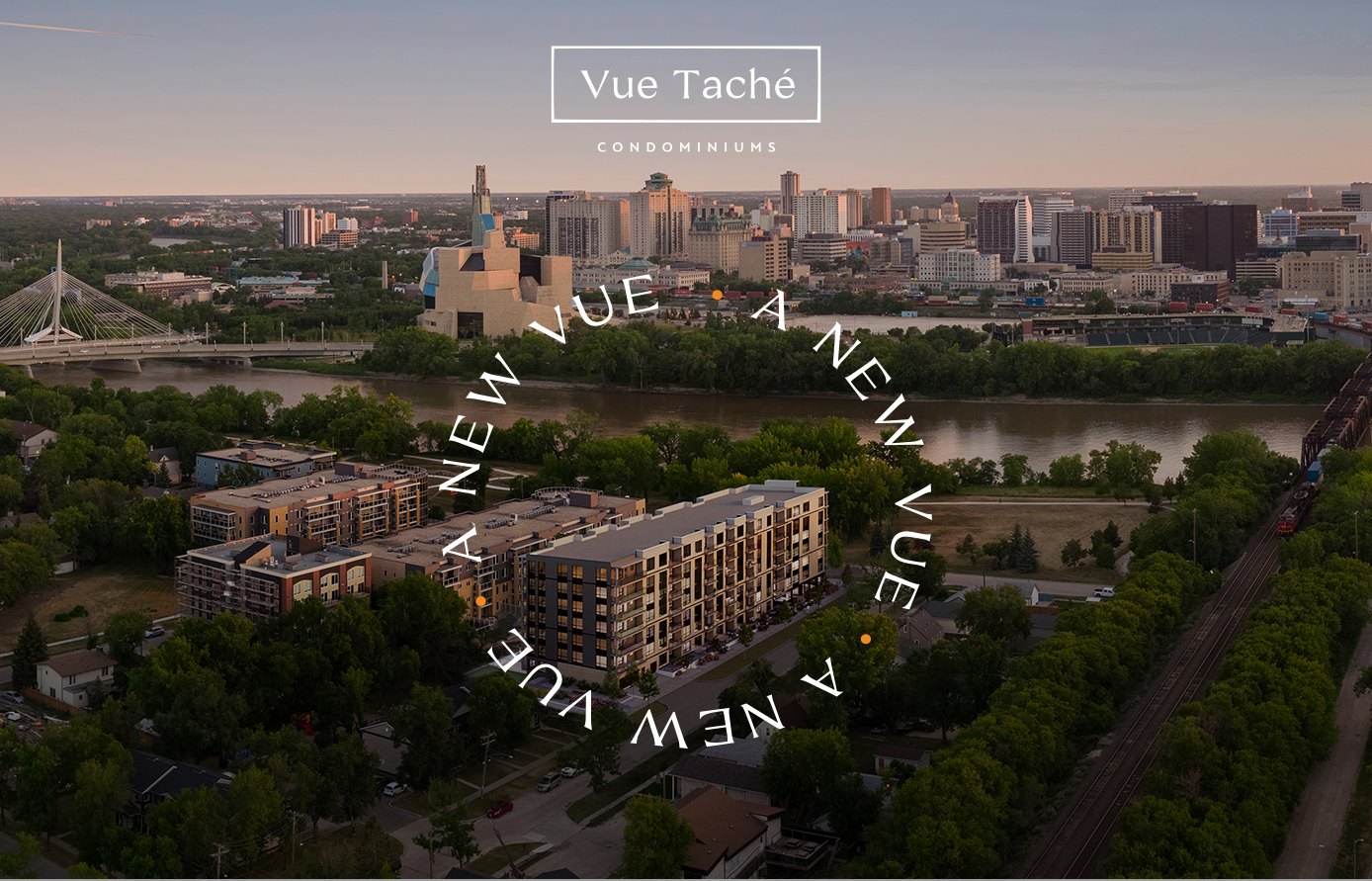 Vue Taché
The upscale property, which features beautiful river views of downtown Winnipeg, was created with downsizers in mind. However, these large condos are far from a spatial sacrifice.
StreetSide approached UpHouse with the goal of developing a strategic brand, with creative messaging designed to go beyond the real estate marketing norm. Our team helped them execute their brand launch, starting with an initial brand platform development and launch video, and ending with a celebratory press release. Their launch was one of their most successful to-date, earning 28 presales before even breaking ground on the 59-unit development.
When it came time to write the press release, we sat down to brainstorm a newsworthy angle that might earn pickup from community newspapers and the attention of MLAs in the area. Because new developments shoot up all the time, we needed to find a captivating hook to drive interest in the property.
We realized that highlighting our shared experiences with COVID-19 was the key to building interest in this new development. Vue Taché was designed in the middle of the pandemic when most people were stuck inside, and these lengthy periods of quarantine influenced the final design. To generate engagement, we'd need to juxtapose the past year's drawbacks with the incredible potential found in this new build.
The pandemic has forced our homes to play many roles, and this development's spacious floor plans were designed with this new lifestyle in mind. From hobby rooms to home offices, Vue Taché offers plenty of space for work and play. We also made sure to emphasize its abundance of outdoor space. The units feature oversize balconies with ample space for outdoor living — one main floor condo even boasts a 1,000 square foot terrace.
To market these incredible features to today's buyers, we gave them what they've been missing this past year: choice. Yoga room, home office or guest room? You decide. Spacious main floor terrace or views overlooking the river? You're in control.
While the post-pandemic world is materializing, the amenities that StreetSide added to this building are timeless. The dog run, larger terraces, better security and bigger space make a great investment for an uncertain future. They've even prepared for an influx of electric cars, adding a charging station to the parkade. In its marketing, we made it clear that Vue Taché is safe, spacious and ready to accommodate whatever the future brings.
With the key to any marketing strategy being an authentic connection to its audience, we used what we knew from the shift in people's expectations for their homes to help the sales team market these condos strictly on paper to start. Vue Taché has already sold almost half its units, with more sales underway since the project broke ground in May.