Turning a hobby into a successful career is the dream of many — made suddenly a little more conceivable with the ability to gain widespread recognition online. Carly Kuhn has successfully achieved both. Known on the Internet as
The Cartorialist
, Carly has successfully leveraged her Instagram fame to build a new career that embodies the lifestyle of the creative. Her work is sophisticated, yet raw and light-hearted. Carly refers to herself as a "serious artist who doesn't take herself too seriously." That feeling is conveyed through her work that is both seriously credible, yet approachable to the masses. Her designs are minimal but have a quality to them that's delightfully unexpected.
Throughout the years, Carly has been tapped by world-famous brands like
Prada
,
Oscar de La Renta
, and
Capitol Records
for collaborations. She is now trying to take The Cartorialist brand into the home and interiors space.
We chatted with Carly about her creative process and these exciting future plans.
You've transformed a hobby into a successful, international career. What has that process been like for you? What are some unexpected challenges or surprises that came along the way?
When I first started my Instagram almost 4 years ago, I was working in television comedy. I didn't have a goal or idea of what the account would become beyond just a creative outlet. The popularity of my account happened almost overnight which was both overwhelming and exciting. Over the course of those years, there have been a lot of trial and errors, ups and downs — navigating what I wanted to make
The Cartorialist
into, after realizing it was more than just a hobby.
Today, people create accounts with an intention, business plan or clear purpose. That wasn't the case for me. I was saying "yes" to a lot in the beginning, just trying to navigate what I liked doing and what I didn't like doing, what worked and what didn't work.
Now fast-forward to today, and I have gotten to a place where I can say "no" to things that I don't feel fulfill me creatively, and instead focus my energy on the work I genuinely want to create.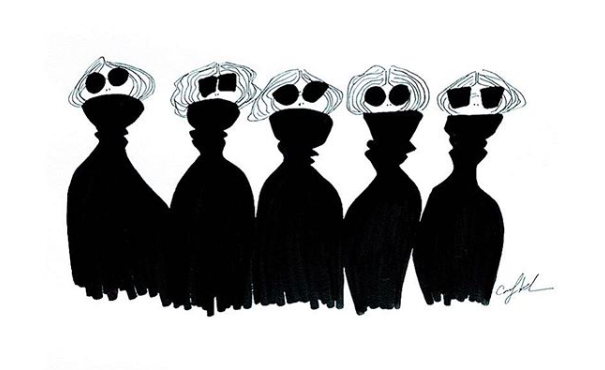 Where do you start? What do you usually have on or around you? What is your creative process like?
It usually starts with either an image I see or a song I hear. I started out drawing things inspired by images I would see on Instagram. A lot of my work usually still happens that way. I'll be scrolling through and a photo will grab my attention. When that happens, it's almost visceral, like a gut reaction.
Your illustrations are lighthearted, raw, and evocative. What inspires your work?
A lot of my work is inspired by images I see, people, places, settings. Additionally, my work is inspired by the times. Since my career as an artist basically happened by accident, through the power of Instagram, a lot of my work has been tied to what's going on in the world: that could mean a behind-the-scenes drawing inspired by a Fashion Week moment, a tribute to a musician who has passed away or something a little more abstract/poetic with hopes to touch on some of the harder, more political issues.
What do you do to get out of a creative slump?
When I'm feeling creatively blocked, I like to go on walks, listen to some good music, watch a creative documentary or listen to podcasts. I love podcasts that are long-form interviews with other creatives. It lights a fire under you sometimes when you hear about others' creative journey.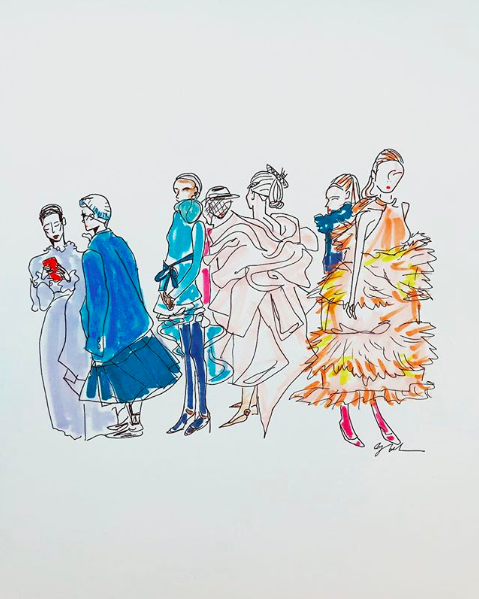 Can you tell us a little bit about your favourite project, and why it's your favourite? 
I think my favourite project was when I painted the faces on the pillars of downtown Los Angeles at
The Row
. I think the coolest part has been seeing all the different people who have taken photos with the faces. It adds another dimension to the work, almost like the installation changes each time a new person stands in front of it (if that makes any sense!?).
You've worked with a lot of well-known brands, such as Prada and Capitol Records, among many others. What is the one collaboration you're most proud of?
I am very excited about the recent wallpaper collaboration I did with Hancock Design. The process of creating the actual wallpaper took some time, so getting to finally see the finished product in person was really cool. This was also my first foray into the home space, which is a big part of where I want to take The Cartorialist brand.
A lot of celebrities have shared your work. Is there someone you still want to reach?
Are there any other goals you can share with us?
Tilda Swinton has always been one of my favourite faces to draw. It would be a dream to do a proper sitting with her to create an in-person portrait.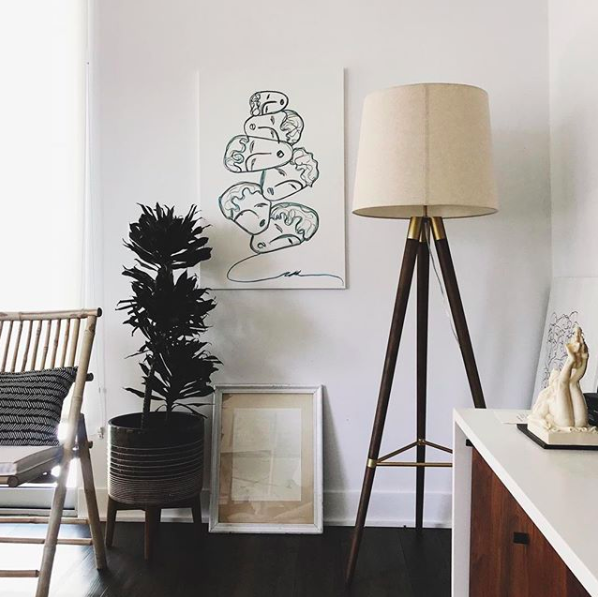 Your work pops up in ceramic, murals, and prints. What's your favourite medium for your illustrations?
Honestly, I love it all. It's fun to paint or draw on something completely new and unexpected, like a distressed cement wall or a white leather chair. I am up for trying anything.