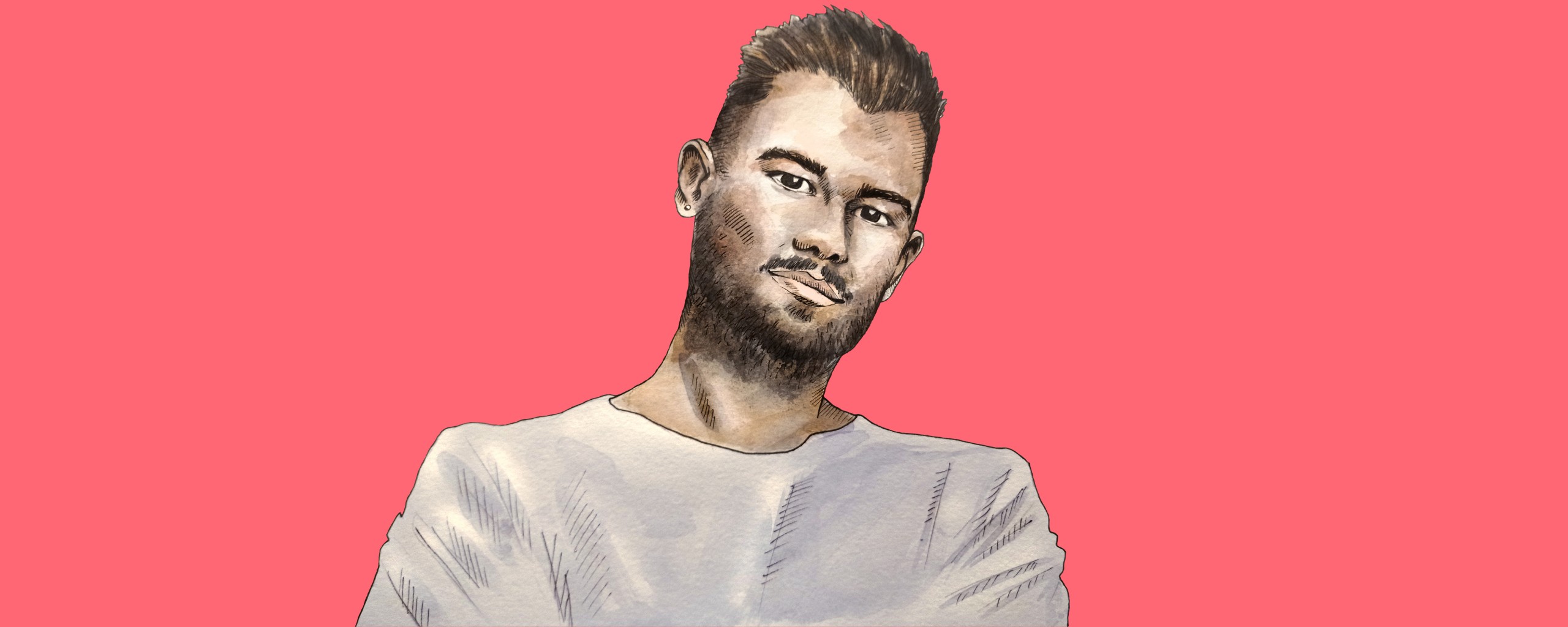 When you're lucky enough to walk past one of Jason Naylor's murals in the streets of New York City, you can't help but feel an instant sense of delight — right before the knee-jerk reaction to snap a picture, of course!
Jason's work is characterized by bright colours, and even brighter messages. His upbeat, vibrant creations regularly feature messages of love and positivity. It's perhaps one of the reasons why Bumble named him one of the 100 Most Inspiring New Yorkers in 2018.
The multitalented artist is no stranger to awards and accolades. He's received the Novum Design Award and two CLIO Bronze medals, not to mention that his work has been featured on multiple global campaigns.
How did you get started in this business? Looking back, would you do anything different?
I started out doing graphic design.
I studied at
Brigham Young University
and then moved to New York to work as a designer. I began my career working in-house for
MAC Cosmetics
, and worked my way up to being an art director. At the time, I was working with photographers, illustrators, artists, as well as makeup artists and stylists. It was such a great experience and I developed a great network. I ended up leaving that job after about 6 years because I wanted to make my own work. Corporate life just wasn't the best fit for me.
Now that I am more of an artist than a designer, I wonder how things would be had I skipped that entire stage.
I do, however, believe that I am where I am because things happened the way they did
Can you describe your creative process? Where do you start? What do you usually have or around you?
Most of my work is very message driven. I tend to focus on quotes, aphorisms, song lyrics. Those all have a big impact on me.
My mind often starts to wonder after I hear the chorus of a song, thinking about the words and formulating visual ideas. I find that this tends to happen a lot in the car as well, which is why I love aimlessly driving.
Then I obviously start sketching out ideas. I do all my sketching on iPad using Procreate. If it's a mural or painting, I may not take the sketch much further than just basic shapes and outlines because I always end up changing things up when I paint. For client illustrations or projects intended for print, I keep refining them until I'm satisfied.
When I'm working, I like having music playing or the TV on. I like having some distraction in the background because it helps me keep my head out of the process. I can go with my gut and trust my instincts better when I'm a little distracted.
You seem to always be on the pulse. How do you keep constantly innovating? Where do you look for inspiration these days?
I am a very visual person and I'm constantly watching the world around me.
Conveniently, I live in Brooklyn, which is a pretty inspiring place. I always am looking at the billboards and murals in my neighbourhood. I also always keep an eye for the latest sneakers everyone's wearing the bag that all the girls are carrying.
I often look to the fashion industry for ideas for color palettes and trends, and I also look up the stock photo sites' predictions of graphic trends. I find them to pretty well aligned with what I see happening on social media.
It's interesting to be caught between the worlds of art and design. What's trending in design is not always reflected in the art scene, and I love spotting those distinctions.
What do you do to get out of a creative slump?
I operate under the mindset of what I call "filling the well." Basically, I am constantly soaking up visuals, words, feelings and ideas, and in a sense, dumping them into this "well." Then, when I have a slump or feel a little flat on things, I have all of this stuff at the tip of my brain, ready for use.
To be quite honest, the stuff that stays in the well usually doesn't come from Instagram or the Internet.
When you're looking at a screen you are almost blind to the things you are looking at. But when you're out in the world and you see a beautiful piece of architecture or a worn out sign with gorgeous letter forms, you tend to remember it.
You have worked with some iconic brands. What is the one project you're most proud of?
I feel so fortunate to have worked with some great brands. I actually really enjoy working with brands, and I do well with the constraints that come with a brand project. Having worked as an art director and being on the other side of things for the beginning part of my career has enabled me to work pretty seamlessly with brands as an artist.
My favorite project of all time was with Sephora. It was the art for a global campaign about diversity and inclusivity called "We Belong to Something Beautiful." The mission of the campaign was so well aligned with my own values and the message I push in my work. The campaign also featured other artists, so I was honoured to be in the mix with some of my own heroes and friends. My portion of the campaign included signage for the Time Square store and an animated billboard that lives permanently in Times Square.
Seeing this IRL was seriously one of the best moments in my entire life. I literally had tears streaming down my face when I saw it.
Where do you look for inspiration these days? Are there any artists, designers, or illustrators that you are loving at the moment?
There's tons of designers and illustrators I am loving, but I would love to share a few other types or artists that inspire me.
I grew up listening to the Beatles' music and I find it to be consistently and reliably inspiring. I also am really liking the words of JM Storm, and I couldn't pass up the opportunity to shout out my favorite Peloton instructor who inspires me constantly, Robin Arzon.
What advice would you give to someone who wants to follow in your footsteps?
Make sure you are not following in anyone's footsteps but your own!
What I mean is that the only way you will find both happiness and success is if you follow your own path. The best way to do that is to just keep drawing, painting, writing, designing. Whatever it is you do, keep on doing it, and do it some more. Then, when you're tired of it, go take a walk around the block and come back and do it some more. As time goes on, you'll find your rhythm. You'll start to see patterns and systems in your practice, and that's how you'll know you've found a groove.
What does the future of design look like to you? What changes do you foresee in the near future that will affect your work?
One thing that is obviously happening in design is AR, and I have been thinking a lot about how much the mainstream culture is going to actually adopt it and how prevalent it will become.
Either way, I see it taking more of a front seat in the way people experience murals. I am at the very beginning stages of figuring out the best way to incorporate AR into my murals. I actually have dreamed of a completely black and white mural that would only be seen in colour with AR, and ideally the mural would colour itself in with a wild, splashy animation that could be seen in AR.
What are some of your future goals, personally and professionally?
I would like to start creating more in 3D. I have a few sculptures that I've been developing and I have been able to bring one to life, which was super exciting for me. It's a 6 ft tall, character version of my ongoing motif, OPN HEART. I'd love to make more large-scale sculptures.
I also want to paint a car. I don't mean a Toyota, I'm talking about a McLaren-type car. I'd also love to paint more murals outside of the US.
Personally, I am working on reading more books and educating myself about investing. I'm always trying to practice kindness and humility. And lastly, my ongoing goal is to spread as much love and kindness as possible!
Give Jason a follow to add some positive vibes to your Instagram feed.