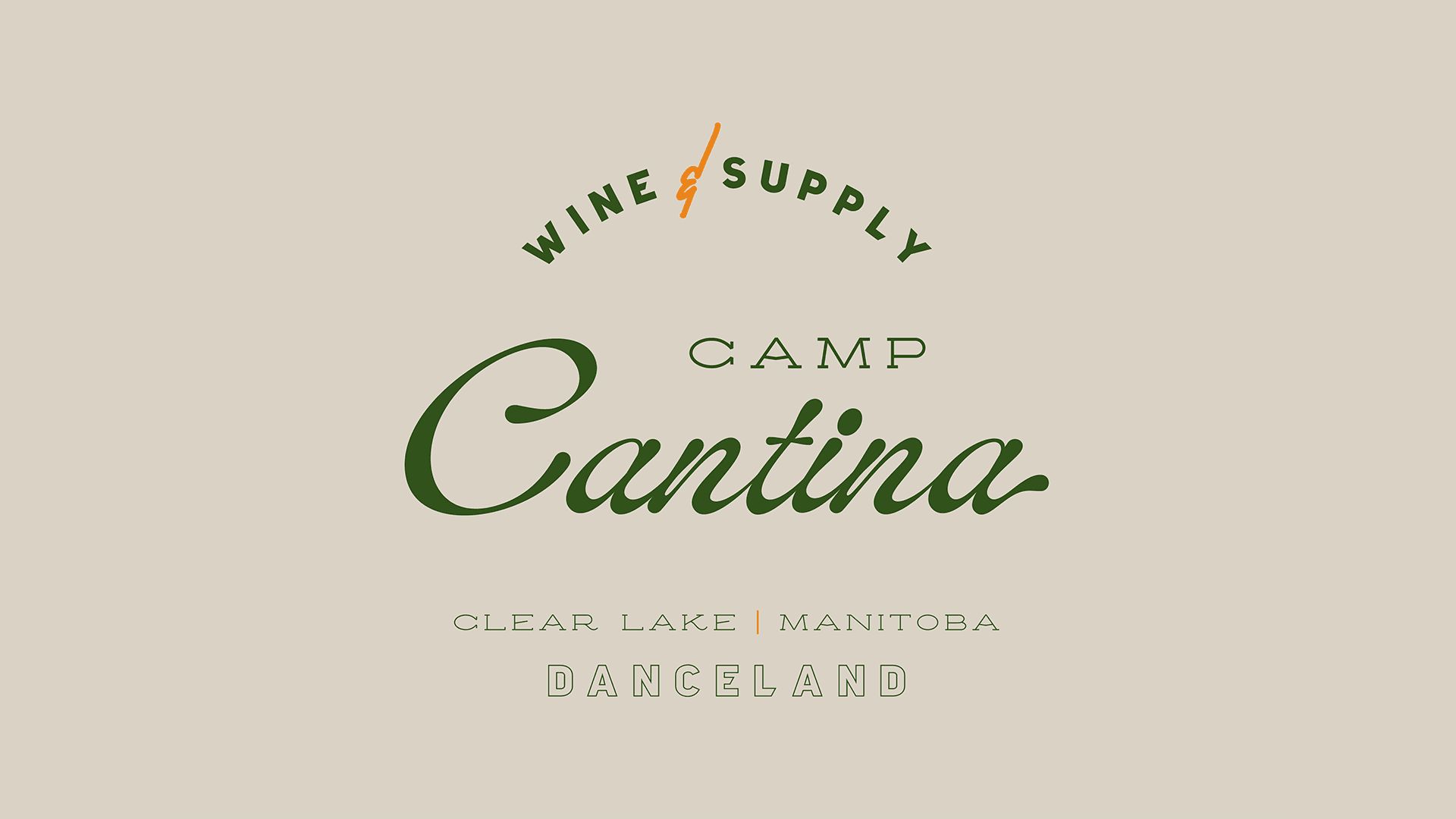 Camp Cantina is a wine bar, deli and provisions shop opening in Wasagaming, Manitoba, this month. In late November, we met with the owner, Megan Tymura, a sommelier, wine sales rep and long-time friend of UpHouse, to learn about her new restaurant and takeaway concept, and the inspiration for what she was looking for from a name and brand.
Megan aimed to bring an approachability and "down-home" nature to a space where most others don't: in wine and elevated food culture. While some wine bars and small plates establishments can come across cold and uninviting, the Camp Cantina brand welcomes you in to dabble into new territory with humility and fun, drawing inspiration from the relaxed tourism destination, its history, and Megan's penchant for putting people at ease.
Methodology
With a couple of tried-and-true name developers at the helm (and after a relaxing bottle of rosé), we blurted out the name Camp Cantina. The "Camp" piece helps to establish the relaxed nature of the deli and the approachability Megan brings to wine knowledge and high-end cuisine.
She also has a huge affinity for the outdoors and a camp aesthetic — and has been known to hike the Mantario Trail with wine in her backpack to make sure a big payoff was waiting for her at the end of the trek.
Growing up in Dryden, Ontario, there's a small-town, affable nature to Megan that you can't miss when interacting with her. She's easy to talk to and this is woven into her business' approach, meeting people where they're at and making sure that people enjoy the food and wine above all else.
"Cantina" is the Spanish word for bar, and in Italy, a cantina is a ground-level room where wine and cured meats can be stored. This is handy for conveying the wine bar aspects of the concept as well as highlighting the kind of food products that the deli will carry. It also gives the place a slightly elevated appeal, appropriately setting the tone for the menu.
Together, the Camp Cantina name forms a perfect juxtaposition that captures the approachability and casualness of the deli and bar, inviting guests to come in and explore an elevated menu. Having known Megan for over a decade, we also felt that the name suited her and reflected the unique perspective she brings to the world of wine knowledge — making it conversational and welcoming to everyone she meets.
When working on such a personal project with an entrepreneur, we typically ask them for brands they like as inspiration, then create our own moodboard to confirm the direction before fleshing it out. Megan supplied us with the perfect starting point, sharing a mix of interior design inspiration, historical references from the area and potential products to inform the brand and space. Armed with her thoughtful moodboard, our designer dove into researching the area to pull even more inspiration for the brand, digging into the history of the iconic Tudor-style "Danceland" building where Camp Cantina is housed, and using historical photographs of the area to uncover elements to inspire the brand.
Working alongside Little Ghost Creative's Robyn Kacperksi, we helped tie in clever catchphrases Camp Cantina could use in its branding, drawing on the famous Dom Perignon quote, "Come quickly, I am tasting the stars!" Originally used to describe champagne, we altered the line to allude to the fact that everything tastes better at the lake, leading us to the: "Taste the Stars" tagline. Not only is bubbly wine a delicious aperitif, everything always tastes better in nature, especially under the vastness of a Clear Lake sky.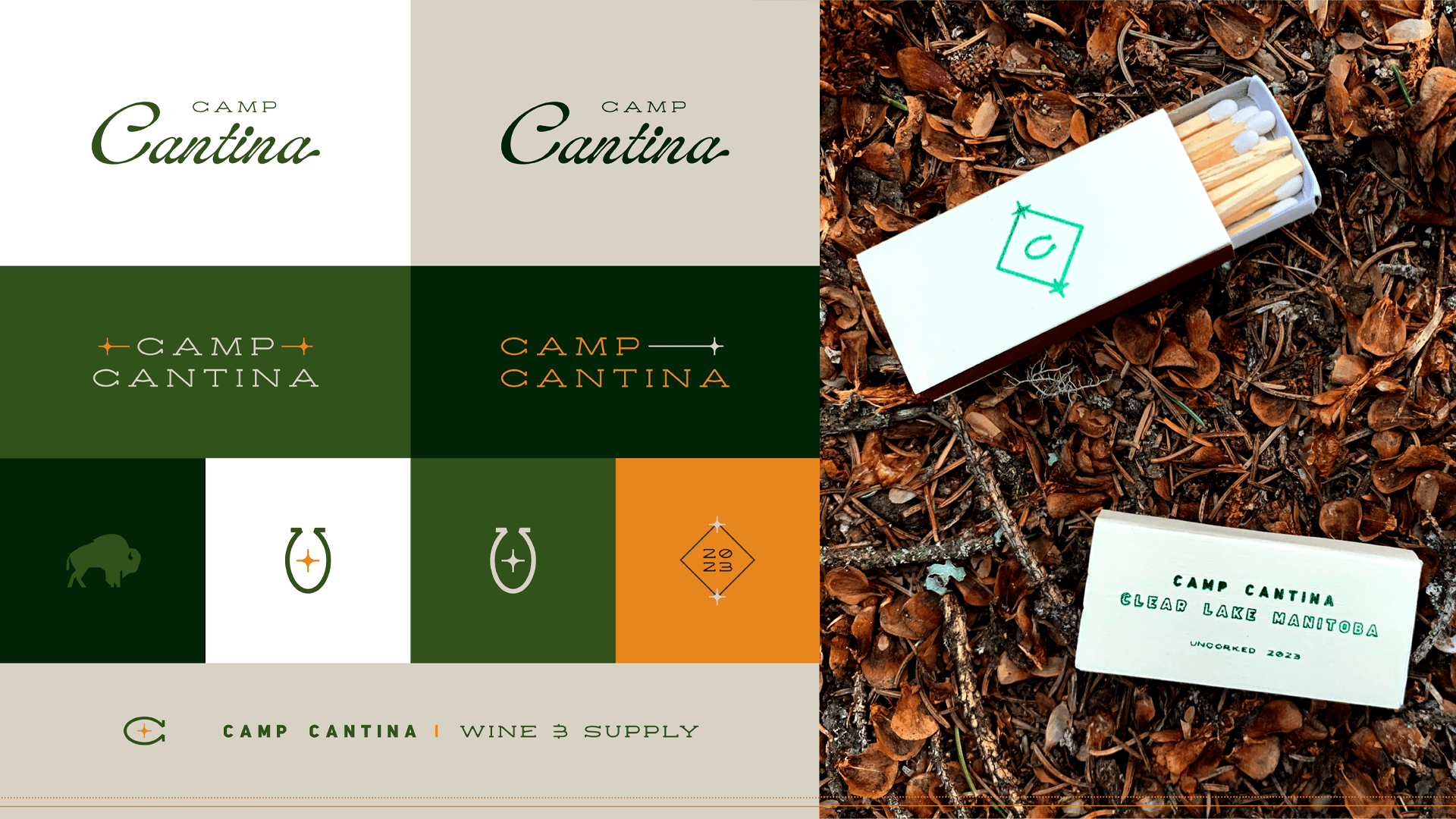 The brand motif can be altered to not only convey a "C" for Camp Cantina, but when flipped, doubles as a wine glass with a star in it, tying back to the larger brand concept and tagline. We built an entirely responsive suite for the brand, ensuring they have all the logo styles they need to promote Camp Cantina's iconic location and to respond to various signage, collateral and merch needs.
Execution
Alongside the visual identity development, we created mockups to provide inspiration for the many materials we knew any wine bar and deli would need, like menus, coasters and deli stamps. But this is where we could really have fun, and we went on to create looks for future merchandise, like vintage matchbooks with matchsticks labelled with some of the iconic lakes in the area. We even shared some inspiration for an inclusive washroom sign and a branded record cover, knowing that Megan wanted to spin records in the bar.
Entrepreneurs often have to wear many titles as marketers, interior designers and graphic designers for their businesses, so we made sure to share assets that would point Megan in a helpful direction for taking the brand forward with social posts, signage, menus, more, long after our collaboration was over. Our designer even came up with a tile pattern to reference the tiles Megan was dead set on ordering, ensuring the brand worked in cohesion with the planned space.

Outcome
Camp Cantina opens this month! While the space filled up with interior finishes, furnishings, equipment and products, Megan launched the Camp Cantina brand with a website and a series of social reels, building anticipation for its opening.
Megan was visibly moved by the finished brand, even tearing up when seeing it for the first time. She agreed it captures the heart and soul she's pouring into this venture. Most importantly, we've given her flexible, adaptable and beautiful brand tools to play with both in the space and on social media to reflect the efforts she's putting in to making every touchpoint in the space meaningful.
Working with someone you know intimately, can be either a blessing or a curse. In this case, there was so much mutual respect and admiration for what both parties were bringing to the table. The resulting brand speaks to long-time friends being at the top of their game and our unique relationship meant that we were able to develop something undeniably perfect for our gal.
Lost & Found: Navigating Identity Loss in Migration and Business

Loss of identity is a major symptom in migratory processes. It is also a major cause of non-conversion in brands. The concept of identity is something I am passionate about and I found a connection between a personal experience and my [...]

A Little Bit About Us We're looking for talented collaborators to join our team. If you (or someone you know) is a hard worker, a team player, a good listener, a nice person and all of the good stuff, we [...]

How To Provide Interview Answers Like an Expert

Just because you've made it to the C-Suite doesn't mean you're ready for media interviews. Many executives are well equipped with decent to excellent public speaking skills, but media interviews are often outside even the most seasoned executives' comfort [...]